WHO WE ARE
For more than 30 years our handsome leader, Steve Shearer (not pictured here), has specialized in quality artwork publishing, art consignment, customizing artwork and framing. Steve works directly with interior designers and shops throughout Wisconsin and Northern Illinois. And as a retail showroom owner himself, Steve understands the importance of keeping store inventory fresh and moving products out the door – making him a ridiculously flexible artwork supplier.
Not only does our team print, custom frame and offer free limited delivery of artwork for retail art consignment sales, but we will exchange pieces that don't sell quickly – without being a pain in your neck. And if you stop by our showroom, both Steve and his long-suffering wife, Judi, are on-site for the best personal service imaginable! Not only can you see all our artwork and framing options, but you can find out the secret to how to be married to a goofball like Steve! Hint: It isn't his George Clooneyesque looks!
Why buy wholesale artwork when you can consign art risk free?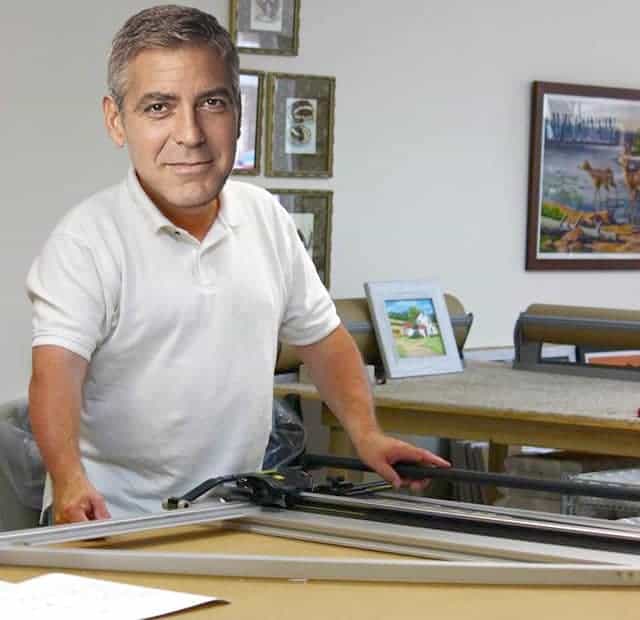 Any resemblance between the character above & a certain handsome celebrity is just a dream.
QUALITY PRINTING
We use 6000 pixel resolution high definition printing. What does that mean? It's good stuff.
CUSTOM PRINTING
We can take any of our prints and customize it with just the right text to give it a local flair.
CUSTOM FRAMING
We have more than 800 frames to choose from – if that's still not enough, we can order too.